Rising climate unpredictability means actionable weather intelligence is increasingly becoming a 'must have' for companies looking to position themselves as environmentally aware and consumer-friendly. The right Weather API can enable all types of businesses to add value to their offerings and develop new revenue opportunities by empowering consumers with personally relevant insights.
But Firstly, What is a Weather API?
A Weather API (Application Programming Interface) enables the automatic querying of weather data, to deliver specific information based on given parameters – such as location and time.
The best Weather APIs can provide real-time or forecast weather data, depending on the user's needs. They typically offer information regarding a variety of weather measurements such as temperature, humidity, precipitation, wind, barometric pressure, and more.
5 Ways A Weather API Can Benefit A Business
In the face of growing weather unpredictability due to climate change, app makers and product professionals can find new ways to engage their users through the creation of tailored weather dashboards, push notifications, and more:
1. Provide Personalized Advice Based On Weather Data
Consumer-facing brands can leverage Weather APIs for their apps and products to deliver tailored insights to end-users, enabling them to stay protected from 'bad' weather and harmful environmental events at their location. (Learn more about the potential of tailored weather alerts and environmental insights here).
2. Correlate User Activity with Weather Conditions
Historical weather datasets can be used for research and correlative studies by linking consumer behavior with live or weather data in ways that inform demand planning and logistics. For example, health management solution providers can leverage Weather API data and weather datasets to map out personal sensitivities in connection with local conditions and inform scientific study ventures.
3. Keep Users Coming Back Regularly
Weather reporting provides the perfect tool for product managers looking to increase engagement and develop sticky experiences among their user base. Companies that empower users to adopt safer and healthier daily habits by helping them stay up to date with personally relevant and dynamically changing weather conditions can see huge increase in daily use and dwell time.
For this reason, smart mobility and fitness & travel brands like Cowboy and AllTrails integrate weather features like air quality, pollen, and to enhance their app experience in unique ways – via route planning based on local weather and environmental conditions.
4. Show the Full Environmental Picture
Individuals today increasingly expect to be informed of the complete weather picture in order to understand how daily or hourly environmental changes might affect their daily decision-making and health/safety. For example, imagine providing a report that the weather is hot and sunny and encouraging users to enjoy activity outside, while failing to account for a nearby wildfire and terrible air quality.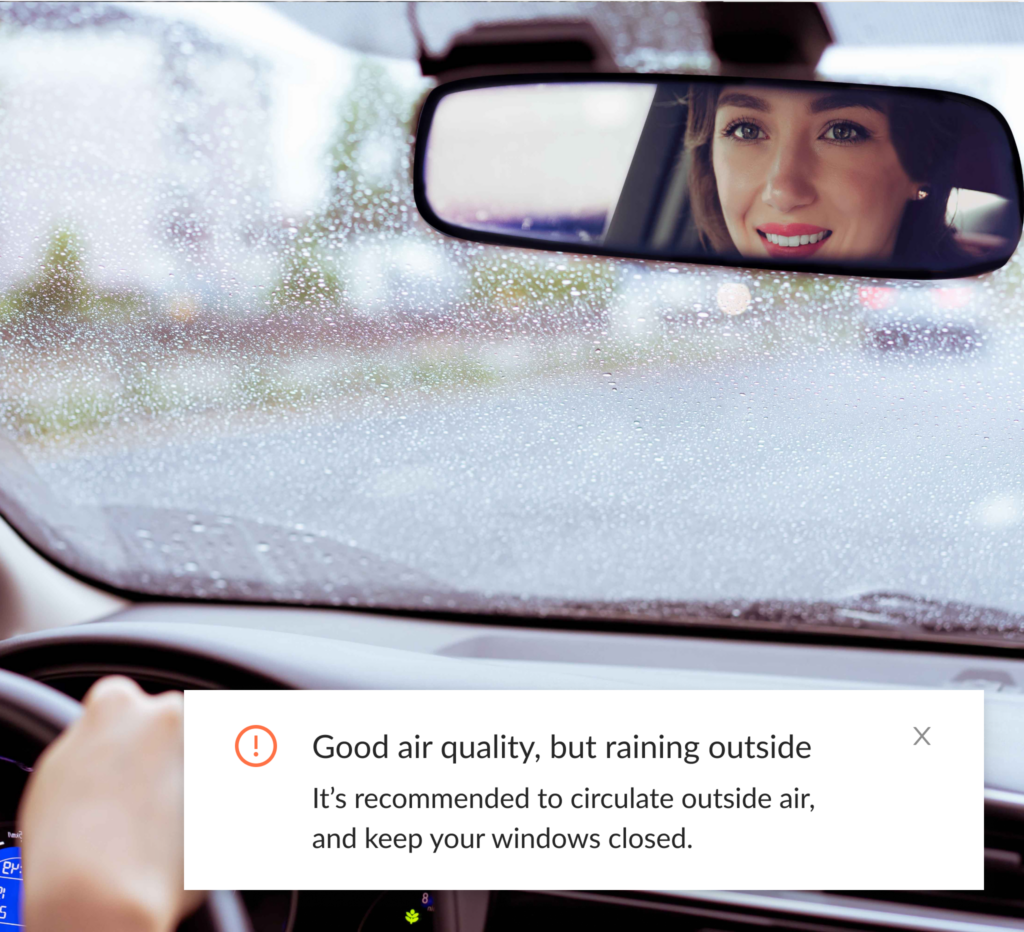 Companies and product makers that combine weather information with other environmental data such as air quality, pollen, and wildfires can distinguish and add significant value to their offerings. On the other hand, products and experiences that fail to consider the full environmental picture can cause consumers to lose trust in their reporting – and by default the brand at large.
5. Sticky Online Experiences = New Routes to Monetization
As companies leverage weather data for sticky visualizations and highly engaging personalized experiences online, returning website traffic and engagement times go up.
As these key metrics increase, brands can take advantage of new revenue expansion opportunities such as targeted advertising and tiered subscription offerings which provide additional weather features such as wildfire tracking, air quality reports, pollen forecasts, and more.
Read more: Building a Successful Monetization Strategy with Environmental Data
What Makes a Great Weather API?
The best Weather APIs deliver reliable and timely environmental information, enabling businesses to easily personalize their user experiences by integrating with existing offerings and/or facilitating the development of new products and services.
Here are some of the foundational pillars we think any great Weather API should offer:
1. Location-based
A great Weather API should offer real-time environmental data that correctly reflects current conditions at the user's location at any given time.
2. Reliable Weather Forecasts
A good Weather API should provide users with effective daily planning tools: Users should know when to avoid exposure to uncomfortable or harmful climate conditions and when to take advantage of healthy and pleasant weather.
3. It's More Than Temperature, Precipitation & Wind Data
A great Weather API needs to communicate the impact of both visible and invisible environmental factors in ways that are easy to understand. The best weather APIs will provide data on wind, barometric pressure, visibility, cloud cover, UV index, temperature (Celsius & Fahrenheit), and more, while helping to contextualize what current conditions feel like to the user.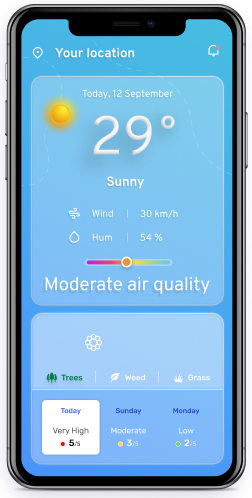 4. Easy Integration with Other Data Sources & Platforms
Any Weather API should be easy to implement and integrate with SaaS platforms like this environmental intelligence platform – while enabling product professionals to develop more comprehensive and personalized offerings based on their needs and roadmap.
5. Clear Weather API Documentation & Professional Services
It's important to ensure any Weather API provider you choose offers clear and proper documentation and clarifies the API's capabilities and request parameters. A good provider here will also offer value beyond the API itself through the provision of professional technical support, design, and industry services. (See BreezoMeter's Weather API documentation here).
How to Test BreezoMeter's Weather APIs
Signup for BreezoMeter's free 14-day API trial to explore how your business could benefit from using a comprehensive Weather API – any questions at all, my colleagues and I are here to help!