The increasing potency, length, and general unpredictability of pollen seasons worldwide means accurate pollen forecasts and reporting has become an essential part of seasonal allergy management for many. But the value of pollen data extends even beyond the traditional health and pharmaceutical applications. Let's explore why now is the time for your business to consider the value of pollen data and take action to prepare for upcoming allergy seasons.
1) a Growing Market: More People Today Suffer from Seasonal Allergies
According to the World Allergy Organization, over 400 million people suffer from pollen allergy (allergic rhinitis) globally, while in the US this allergic respiratory condition affects between 10-30% of the adult population and as much as 40% of children, making pollen allergy the fifth most common chronic disease.
Research suggests that allergies as a whole could be on the rise in some urban areas, and may worsen further due to the combined effect of pollen and air pollution. In fact, experts estimate that by 2025, half of the entire EU population could be impacted by allergies to pollen or other compounds (!).
2) A Growing Problem: Allergy Seasons are Getting Stronger & Longer
Researchers have analyzed pollen data sets from 17 different locations in the Northern Hemisphere averaging over 26 years. In 71% of the locations analyzed, researchers found increases in total amounts of pollen produced, and in 65% of the locations a significant increase in the length of the pollen-producing season, by 0.9 days per year worldwide on average.
Another study by Bielory suggests pollen counts could double by 2040 – making the potential allergic impact of pollen seasons even stronger.
3) Pollen Seasons are Getting Harder to Predict
A growing body of research correlates climate change with drastic changes to pollen seasons across the world. In the US, not only have pollen seasons already gotten 20 days longer and 21% more potent, but researchers predict unmitigated climate change could see an increase of up to 200% higher pollen levels and seasons starting weeks earlier than before.
4) expanding market, More competition
The global allergy diagnostics market, valued at $4.9 billion in 2021, is set to see a growth rate of 11% in the 5 year period from 2022 onward, while the Allergy Treatment Market, valued at $19.07 billion in 2021, is estimated to reach $31.63 billion by 2029. Pollen allergy is one of the major contributors to these expansions, and the global treatment market for ragweed pollen allergy, estimated at $836.9 million in 2020, is now expected to see a compound annual growth rate of 4.61% between 2020-2027.
Now is the time to think of ways your brand can deliver unique value in a way that is scalable. Dynamic pollen visualizations and personalized pollen data and alerts can help to ensure your brand and product remains a force to be reckoned with as the competition heats up.
5) Companies Like yours are already Benefiting from Pollen Insights – but not too many
Leading global pharmaceutical companies like ALK, Taisho, Amcal have already started to leverage high-resolution pollen count data feeds and insights for their current and future product roadmaps. While pollen forecasts and reports offer obvious benefits to pharmaceutical and allergy treatment and management brands, other industries have also begun leveraging pollen data to enhance and distinguish their offerings.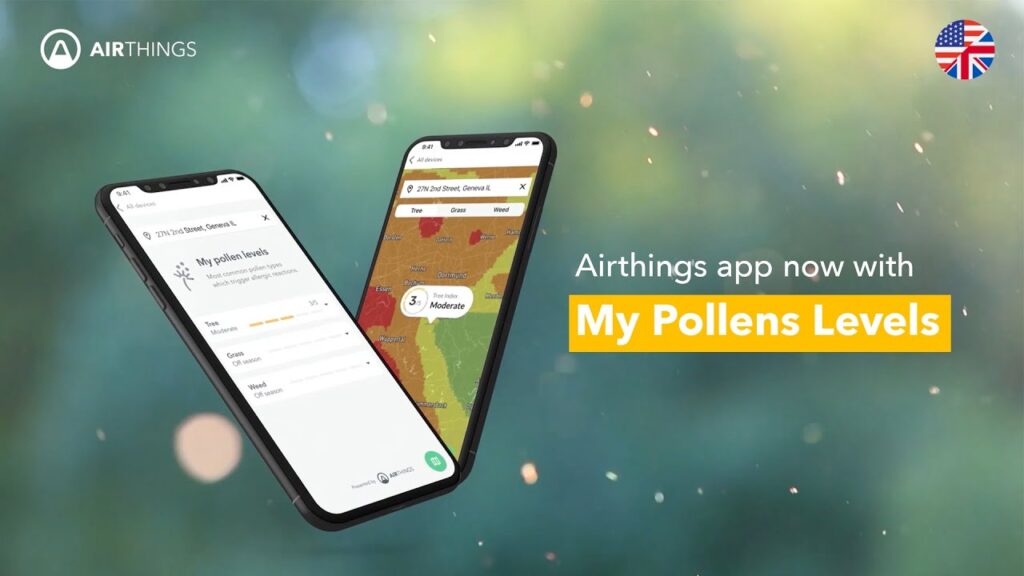 Indoor air quality solution providers like Airthings and Oransi now integrate pollen data with their connected apps, platforms and dashboards, enabling users to track live pollen levels and act on personalized pollen insights to optimize their indoor air quality at home, at work, or anywhere else.
Lifestyle brands like AllTrails are also turning to daily pollen forecasts to visualize local pollen levels via color-coded map overlays, empowering users to avoid triggers during outdoor activities and encouraging app retention and customer loyalty over the long term.
6) Granular Pollen Data Means More Accuracy
Based on the precise topography, weather, and climate conditions of a particular location, pollen levels can change from 1 kilometer to the next. For actionable decision-making, it's often insufficient to provide pollen data only at the level of a large region.
UK MetOffice Pollen Map
The UK MetOffice divides all of the country into only 16 very large regions – but within these regions, the actual pollen levels may vary dramatically.
BreezoMeter's approach to pollen data provides accurate live and forecast pollen reporting at a spatial resolution of 1km. Data is broken down by plant type and species for every location so individuals can benefit from a more accurate understanding of the type of pollen that is prevalent in their area:
BreezoMeter Pollen Map
Pollen Heatmap, Midwestern US Region, Aug 23, 2022
7) Location-based Pollen insights can contextualize your messaging in a powerful way
According to Forbes, 90% of US consumers find marketing personalization appealing while 72% of consumers claim to only engage with personalized messaging.
These statistics have been duly noted by Neutrogena and Amcal Pharmacy, who use environmental intelligence to deliver the right message, at the right time to the right people, with amazing results:
Amcal Pharmacy Shows Live Pollen Information to Australian Commuters (Image source)
By leveraging BreezoMeter's pollen data, Amcal was able to create digital billboards that broadcast live pollen count warnings for their geo-location, enabling the pharma brand's ads to reach a mass audience of consumers.
8) You'll forecast better with Historical Pollen Data
BreezoMeter's historical pollen data offers valuable information for clinical researchers as well as market analysts looking to optimize demand planning strategies, providing vast historical datasets of pollen types & species from around the globe.
Allergy care providers can leverage historical pollen data to contextualize individual allergy sufferer symptoms with localized pollen levels, enabling them to map out each patient's personal sensitivities and optimize allergy treatment plans for better health outcomes.
Pharma brands can leverage historical pollen data to contextualize spikes in allergy medication consumption with local environments, enabling them to identify emerging consumer trends as well as forecast and act on future demands.
9) pollen data can boost your digital engagement
For product managers looking for clever ways to boost engagement and reduce churn across their products, pollen count data feeds and personalized insights have been found to transform historical interaction with certain types of products and applications.
By integrating attractive pollen heatmaps and personalized recommendations with their allergy companion app, allergy-leader ALK increased user engagement and improved app churn rate by 50%(!). The personalized pollen insights enabled ALK's app users to understand how to manage and control their seasonal allergy symptoms and empowered them to take a more active role in their health care.
10) fine-tune Your advertising & Logistics Strategy based on the environment
Our uniquely individual responses to the environment around us have presented a challenge for companies looking to develop tailored solutions based on our environmental exposure for a long time.
Today, location-specific pollen data can be correlated with real product use and individual behavior to develop solutions that are more personalized to the user. For healthcare providers, hyper-local historical, live, and forecast pollen data can also help to plan where and when medical supplies will be needed and where to prioritize advertising activity. One of our clients even integrated live pollen insights for real-time bidding in Adwords, with great results!
---
Ready to try Out Pollen Data for your business?
Pollen data and allergy-focused insights can enhance a brand's ability to tailor messaging to an individual sufferer and deliver more value in the long-term in a meaningful way. For allergy treatment & management care providers, pollen intelligence has become nothing short of a must-have tool to maintain a competitive edge in the face of rising consumer demands for personalized health solutions.